Some comfort underfoot during long watches with foam non-skid cockpit panels has accelerated the popularity of SeaDek panels and similar products.  The panels provide great traction and eliminate those painful raspberries experienced when flesh meets classic non-skid.

Open 'dance-deck' style cockpits in many race boats and day sailers are perfect candidates for foam panels that come in a variety of widths from 5mm to 13mm, and are available in a panoply of colors including faux teak.

We build custom templates for any boat and provide inlays for logos and graphic elements.  The result is a super comfortable working surface expertly fitted to each individual cockpit.

We work from sail plans and line drawings provided by the boat designers and/or builders, isolating the cockpit perimeter to form the base of the template.  Molded elements are depicted straight from the line drawings and we'll set the templates up to create an offset around each hardware element.  When hardware is installed or re-located after build, we'll do a custom measuring survey to depict the hardware offsets.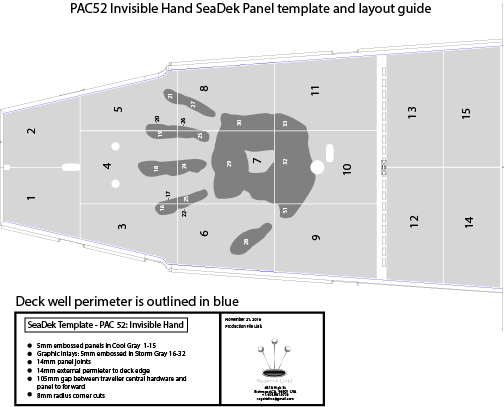 We work in mixed media too! The cockpit project for the PAC52 RIO called for a hybrid of traditional gloss and non-skid forward of the traveler and SeaDek panels with custom inlay aft of the traveler.

No project is too complex!  We can configure your branding no matter how intricate and detailed.  The RP45 Lady Kanon involved sharp corners, racing stripes, and multiple panel cuts and inlays.